About Kérastase
Since 1964, Kérastase has united revolutionary technologies with professional luxury standards to deliver an array of bespoke haircare formulations suitable for all hair types, textures and concerns.
Powered by science and personalised solutions, each Kérastase product is expertly created in alliance with leading haircare professionals to create formulas that offer the ultimate care for your hair and scalp.
Kérastase holds sustainability at the forefront of everything it does, adopting a care-first philosophy to ensure eco-conscious choices are made without compromising on quality.
Kérastase presents over 15 unique collections, each containing an innovative blend of molecular complexes, hero ingredients and skinification actives. The specially selected formulas envelop the hair in nutrients to promote a fuller-looking appearance, enriched with lustre and bounce.
SHOP ALL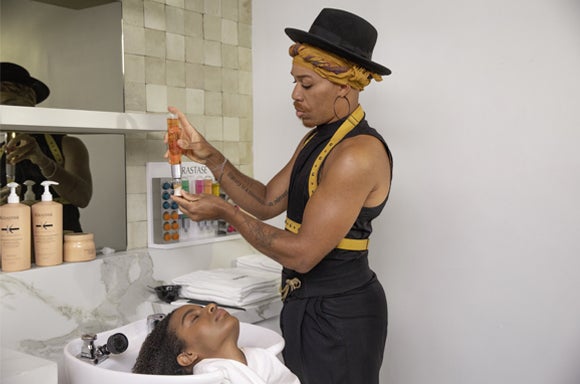 DISCOVER BEST IN-CLASS SALONS NEAR YOU
Very personal care for exceptional hair begins in your Kérastase salon.

Find a Kérastase expert hair salon near you for a personalized hair experience that begins with a professional hair and scalp diagnosis. Whilst you are in salon, why not indulge in a professional luxury Fusio-Dose treatment, a tailor-made solution targeting your unique hair needs. Powered by skincare ingredients and available in 30 combinations, Fusio-Dose can help boost shine, enhance curls, reduce brassiness, nourish, and strengthen your locks.
FIND YOUR SALON
The Chroma Absolu collection hosts a high-performance range of sulphate-free formulas that work to cleanse and nourish from root to tip. If you have colour-treated or dry hair you should opt for a sulphate-free formula to help preserve colour vibrancy for longer.
Please note not all Kérastase products are sulphate-free.
Use a Kérastase hair mask as part of your weekly routine, or as often as needed. Use on damp, towel dried hair, leave on for 10 minutes, emulsify into a nutrient-rich lather and rinse well.
Please note not all Kérastase products are silicone-free.
Kérastase offers expertly formulated collections dedicated to help enhance and nourish colour-treated hair. Chroma Absolu, Blond Absolu and Soleil are best-selling collections that maintain and protect colour-treated hair.
This is dependent on how many times you wash your hair per week. It is recommended to wash your hair 2-3 times per week. Remember to lather twice: once to cleanse and a second time to treat and nourish. Start with warm water and finish with cool water to enhance shine.